Oxidative stress in the etiology of age-associated decline in glucose metabolism
Longevity & Healthspan
2012
1:7
Received: 11 May 2012
Accepted: 9 July 2012
Published: 1 November 2012
Abstract
One of the most common pathologies in aging humans is the development of glucose metabolism dysfunction. The high incidence of metabolic dysfunction, in particular type 2 diabetes mellitus, is a significant health and economic burden on the aging population. However, the mechanisms that regulate this age-related physiological decline, and thus potential preventative treatments, remain elusive. Even after accounting for age-related changes in adiposity, lean mass, blood lipids, etc., aging is an independent factor for reduced glucose tolerance and increased insulin resistance. Oxidative stress has been shown to have significant detrimental impacts on the regulation of glucose homeostasis in vitro and in vivo. Furthermore, oxidative stress has been shown to be modulated by age and diet in several model systems. This review provides an overview of these data and addresses whether increases in oxidative stress with aging may be a primary determinant of age-related metabolic dysfunction.
Keywords
Oxidative stress
Insulin resistance
Muscle
Adipose
Mitochondria
Inflammation
Conclusions
The high incidence of metabolic dysfunction in the aged population is a significant health and economic burden on a growing population. The population growth of both individuals over 65 years of age and obese individuals suggests that this problem will not diminish without significant intervention. While improving diet, increasing aerobic exercise and weight loss can all improve glucose metabolism, aging remains an independent factor in the development of insulin resistance [
6
–
8
]. Understanding this process could significantly improve both health span of the aging individual and health of the elderly population. How oxidative stress may fit into this process is summarized in Figure
2
. Regulating oxidative stress does make for an attractive treatment target; the process is well studied, there are precise assays for its measurement, and there are viable treatments, such as antioxidants, that reduce its effects.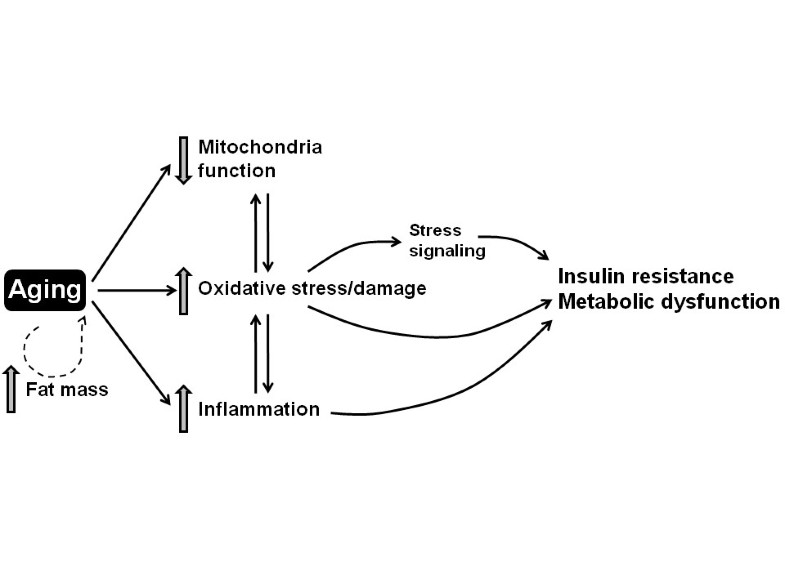 While experimental evidence has suggested that antioxidant treatments can prevent metabolic dysfunction caused by diet or aging in rodents, clinical studies have largely failed. Some potential rationales for these discrepancies have been described above. However, the benefit of healthy diet, activity and lifestyle on reducing oxidative stress in vivo cannot be discounted as a means to at least slow the progression of metabolic defects [108–113]. As mentioned above, studies in rodents suggest that there may be some benefit to increasing antioxidant levels as anti-diabetic prophylactic treatment rather than clinical treatment [19, 42, 101]. Support would require long-term longitudinal studies to determine whether these treatments would be preventative. In the short-term, new insights into the mechanisms by which oxidative stress negatively affects glucose metabolism may develop new antioxidants, or treatment regimes, that can prevent age-related metabolic dysfunction. For example, new treatments that specifically target muscle or adipose tissue may have much stronger effects on glucose metabolism at lower doses than more general antioxidants. The goal of these studies should not be to find alternatives to healthy living, but rather to utilize treatments in conjunction with healthy lifestyles to extend the health span in humans.
Abbreviations
8-OHdG:

8-Oxo-2'-deoxyguanosine
AKT:

Protein kinase B
GLUT4:

Glucose transporter 4
IL-6:

Interleukin-6
IRS-1:

Insulin receptor substrate protein-1
JNK:

c-jun N terminal kinase
MDA:

Malondialdehyde
NfκB:

Nuclear factor κB
TNFα:

Tumor necrosis factor alpha.
Declarations
Acknowledgments
This work was supported by an NIA training grant for the basic biology of aging (AG021890-05) and the Geriatric Research, Education, and Clinical Center of the South Texas Veterans Health Care System, Audie L. Murphy Hospital. F2-isoprostane measurements were performed by the Nathan Shock Center oxidative stress and mitochondrial function core facility at UTHSCSA.
Authors' Affiliations
(1)
The Geriatric Research Education and Clinical Center, South Texas Veterans Health Care System, Audie L. Murphy Hospital, San Antonio, USA
(2)
Department of Molecular Medicine, The Sam and Ann Barshop Institute for Longevity and Aging Studies, The University of Texas Health Science Center at San Antonio, San Antonio, USA
Copyright
© Salmon; licensee BioMed Central Ltd. 2012
This article is published under license to BioMed Central Ltd. This is an Open Access article distributed under the terms of the Creative Commons Attribution License (http://creativecommons.org/licenses/by/2.0), which permits unrestricted use, distribution, and reproduction in any medium, provided the original work is properly cited.