Mitochondrial oxidative stress in aging and healthspan
Longevity & Healthspan
2014
3:6
Received: 13 November 2013
Accepted: 10 March 2014
Published: 1 May 2014
Abstract
The free radical theory of aging proposes that reactive oxygen species (ROS)-induced accumulation of damage to cellular macromolecules is a primary driving force of aging and a major determinant of lifespan. Although this theory is one of the most popular explanations for the cause of aging, several experimental rodent models of antioxidant manipulation have failed to affect lifespan. Moreover, antioxidant supplementation clinical trials have been largely disappointing. The mitochondrial theory of aging specifies more particularly that mitochondria are both the primary sources of ROS and the primary targets of ROS damage. In addition to effects on lifespan and aging, mitochondrial ROS have been shown to play a central role in healthspan of many vital organ systems. In this article we review the evidence supporting the role of mitochondrial oxidative stress, mitochondrial damage and dysfunction in aging and healthspan, including cardiac aging, age-dependent cardiovascular diseases, skeletal muscle aging, neurodegenerative diseases, insulin resistance and diabetes as well as age-related cancers. The crosstalk of mitochondrial ROS, redox, and other cellular signaling is briefly presented. Potential therapeutic strategies to improve mitochondrial function in aging and healthspan are reviewed, with a focus on mitochondrial protective drugs, such as the mitochondrial antioxidants MitoQ, SkQ1, and the mitochondrial protective peptide SS-31.
Keywords
MitochondriaOxidative stressAgingHealthspan
Introduction
Denham Harman first proposed the free radical theory of aging in 1956, suggesting that free radical-induced accumulation of damage to cellular macromolecules is a primary driving force of aging and a major determinant of lifespan [
1
]. This theory, however, is a highly simplified view of the role of reactive oxygen species (ROS) in the biology of aging. There are a number of sources of intracellular ROS in mammals, including NADPH oxidases (NOX), mitochondria, xanthine oxidase, monoamine oxidase, and nitric oxide synthase. The term ROS itself, encompasses numerous species that range from highly reactive (OH
.
) to longer-lived and membrane permeant (H2O2). Under normal conditions, ROS are maintained at the physiological levels by several endogenous antioxidant systems, including superoxide dismutatase (SOD), catalase, glutathione peroxidases, and glutathione reductase (GR). Other antioxidant systems involving thiol-disulphide oxidoreductase systems include the cytosolic proteins thioredoxin (TRX) and glutaredoxin (GRX). These antioxidant systems are complex, located in different cellular compartments and are often redundant or complementary in various conditions. Physiological levels of ROS interact with redox state and play a role in mediating cell signaling, while pathological levels of ROS can result in oxidative damage to cellular components and activate several cell death pathways (Figure
1
). The close interrelationship of redox balance to oxidative stress has in recent years become a more prominent aspect of the free radical theory of aging and has been the subject of several reviews [
2
–
4
].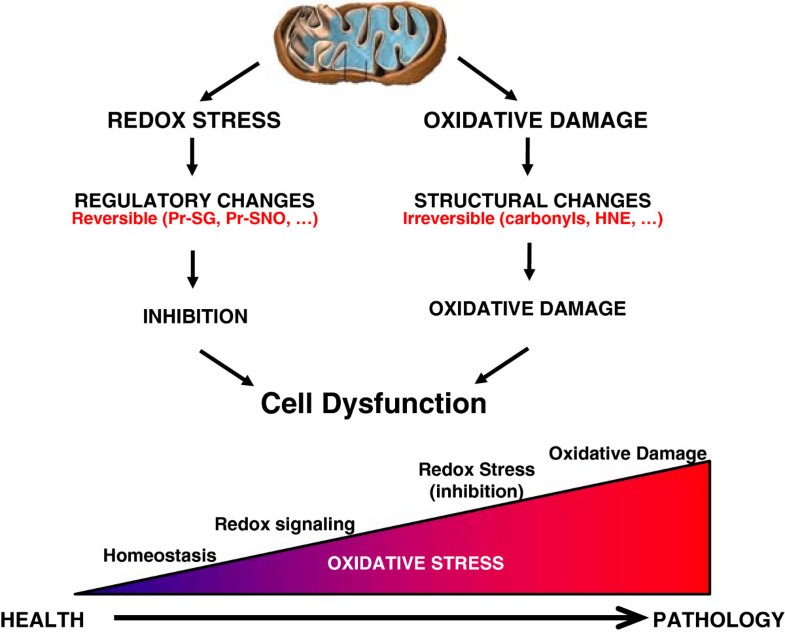 Based on the free radical theory of aging, several scientists have attempted to increase lifespan by genetic manipulation of antioxidant system components, however, the results have generally been conflicting. In Caenorhabditis elegans, single or double SOD mutants have a normal lifespan, while mitochondrial SOD2 mutants (single or double with cytoplasmic SOD1) increased lifespan [5]. In Drosophila melanogaster early results were confounded by uncontrolled genetic background effects. Later analyses suggested that over-expression of catalase, SOD1, or SOD2 using the genes' native promoters does not increase life span [6, 7], but that when tissue-specific or conditional transgenic overexpression systems were used, elevated SOD2 did result in substantial life span increases [8]. It has also been suggested that the largest lifespan extensions were seen in backgrounds with shorter lifespan or under redox stress [3]. In transgenic mice, the overexpression of endogenous antioxidants, including CuZnSOD (SOD1, cytoplasmic), MnSOD (SOD2, mitochondrial), catalase, or combination of CuZnSOD/catalase and CuZnSOD/MnSOD failed to extend mouse lifespan [9–11]. While SOD1 knockout mice exhibit 30% shorter lifespan, the fact that their major cause of death is hepatocellular carcinoma and the absence of lifespan reduction in SOD1 heterozygous mice suggest the shorten lifespan in SOD1 knockout may not be due to accelerated aging. While complete deletion of SOD2 cause neonatal death, SOD2 heterozygous mice and SOD3 both shown normal lifespan. However, it is notable that in many disease models or when under environmental stress, the same transgenic overexpression mice may be healthier than their wild-type counterparts, and the converse for antioxidant under-expressing mice (reviewed by [12]).
Several clinical trials using antioxidant supplementation in various study populations have been performed during the last three decades and the results are often equivocal or conflicting. Meta-analyses of large numbers of individual reports are often required to reach conclusions, however these too vary. A large scale analysis of 68 randomized trials including 232,606 participants from general population or patients with heterogeneous diseases have reported no effect of antioxidant supplements on overall mortality, or even a significant increase in mortality in subjects receiving beta carotene, vitamin A, and vitamin E [13]. A recent widely cited meta-analysis including 50 randomized controlled trials with 294,478 participants showed no evidence to support the use of vitamin and antioxidant supplements for prevention of cardiovascular diseases [14]. In contrast, a recent meta-analysis of seven studies on the risk of Alzheimer's disease showed that dietary intakes of vitamin E, vitamin C, and beta carotene can lower the risk of AD [15]. In spite of extensive study it remains clear that there is no consensus and/or those effects are disease-dependent.
Conclusion
Substantial evidence supports the central role of mitochondrial oxidative stress in aging and healthspan. Despite the disappointing outcomes of non-targeted antioxidants in clinical trials, there is growing evidence for the beneficial effects of mitochondrial-targeted antioxidants in aging and age-related diseases. Genetic and pharmacological approaches reducing mitochondrial oxidative stress (either by direct antioxidant or indirectly through preservation of mitochondrial structure and function) attenuate the phenotypes of cardiac aging, age-related cardiovascular diseases, skeletal muscle aging, neurodegenerative diseases, diabetes, and cancer various animal models (summarized in Table 1). Moreover, based on promising preliminary results in small and large mammals, mitochondrial-targeted antioxidants have moved into clinical trials. Further studies are necessary to investigate many of the remaining questions in this field, while examining the potential application of mitochondrial targeted therapeutics in the treatment or prevention of specific diseases as well as improved healthspan in general.
Declarations
Acknowledgements
This work was supported by grants from the American Federation for Aging Research, the Ellison Medical Foundation and the NIH (AT006526, AG038747, AG11370, HL101186, AG013280, AG042637, AG001751). YAC is supported by an Ellison Medical Foundation/AFAR Postdoctoral Fellowship.
Authors' Affiliations
(1)
Department of Pathology, University of Washington, Seattle, USA
(2)
Department of Radiology, University of Washington, Seattle, USA
(3)
Department of Pharmacology, Weill Cornell Medical College, New York, USA
Copyright
© Dai et al.; licensee BioMed Central Ltd. 2014
This article is published under license to BioMed Central Ltd. This is an Open Access article distributed under the terms of the Creative Commons Attribution License (http://creativecommons.org/licenses/by/2.0), which permits unrestricted use, distribution, and reproduction in any medium, provided the original work is properly credited. The Creative Commons Public Domain Dedication waiver (http://creativecommons.org/publicdomain/zero/1.0/) applies to the data made available in this article, unless otherwise stated.